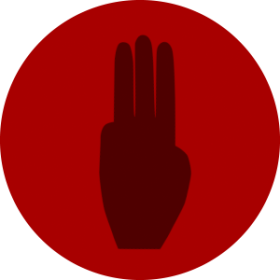 3 Finger Salute is a collection of 3,333 NFTs supporting democracy and digital artists in Myanmar (aka Burma).
Myanmar's military staged a coup and took control of the country on February 1, 2021. Millions of people immediately rose up in peaceful protest, but the illegitimate Junta met them with violence and brute force.

The three fingers salute has come to represent resistance to authoritarian regimes, and our three finger salute NFTs honor the heroes and warriors who fight for liberty. We want the Junta and the rest of the world to know that the Myanmar people will not give up until democracy is restored.
Collections in Secondary Market