Significant collection
Significant collection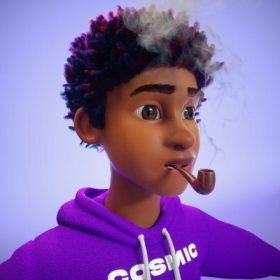 Avatars are the first civilization to colonize Mars and live in a network of cosmic condos.
- The Avatar NFT you own is the character you appear as online.

- Burn $SPACEGOLD to set/change the name of your avatar in game. The name of your avatar is displayed above the characters head in game.

- Change between different avatars that you hold in game.

- Owning an Avatar NFT will enable you to invite other avatars over to your condo.

- Owning an Avatar NFT will enable you to speak to other avatars in the game via voice chat.

- Avatar NFT holders have the ability to play music in their condo via the Spotify integration. Play your favourite Spotify playlists to anyone who visits your condo.

- Avatars can dance. There are 3 different dances moves that can be unlocked by burning $SPACEGOLD.

To gain the full Cosmic Condos experience, we recommend owning both a Gen 2 Cosmic Condos NFT and a 3D Avatar NFT. As further detailed in Utility, Gen 2 Cosmic Condos NFTs act as a key into the metaverse game and owning one will unlock its holder a 3D interactive condo interior in the metaverse.