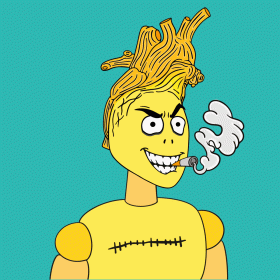 Corpusville: Cordi Collection
4,800 Cordis giving holders a stake in the most exclusive web3 incubator in emerging markets
Corpusville is a metaverse where human-like characters with interesting and quirky personalities live. Oh, and they have very unique heads too. Corpusville's residents live in the inner world of each one of us, literally. 

The art work is an exploration of the turbulence of human emotion in the context of our modern world, where pragmatism governs our day to day lives. Web3 is pulling us to get back in touch w/ our emotions, chase our passions, & feel celebrated for our contributions.

Corpuville's mission is to onboard more creative and dev talent from emerging markets onto the Solana ecosystem. We see a high barrier to entry for talented creators in the MEA region and coupled with a serious appetite for NFT collectors in the region.

The genesis collection is centered around Cordi, the protagonist of Corpusville, who wears his heart on his shoulders. We are minting 4,800 unique Cordis that will give holders access to future airdrops and a stake in our future project 'Baseline Labs'. 

The Baseline Labs will provide guidance, incubate and sponsor highly motivated artists, web 3.0 devs, innovators and Blockchain pioneers from emerging markets to bring value and grow the ecosystem outside of North America.
Collections in Secondary Market