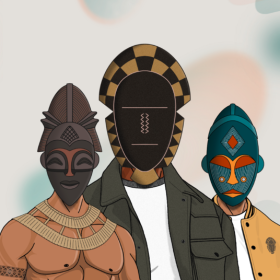 An original and Colorful Portraits Collection of NFT featuring the Splendid and Esoteric African Masks with the contemp
MASKEMYS is a collection of NFTs distributed under the ARTKEMYS label.
ARTKEMYS is a brand created by three friends who are computer engineers and art lovers, curious and fervent defenders of true decentralization; being themselves decentralized between three countries.
The MASKEMYS Collection will consist of between 4004 collectibles called maskemys.
Through this project, we sought to bring together the modern world and a living culture. We have therefore associated the abstract art symbolized by the Masks with the contemporary lifestyle. Thus, each maskemys is represented by a man dressed in a modern way proudly wearing a Mask.
We wanted to create the collection in a limited way so that each maskemys is unique.