Significant collection
Significant collection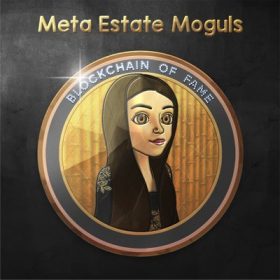 Empowering Entrepreneural Members through business seedfunding, education, and community
OUR GOAL AT MEM IS TO EMPOWER OUR HOLDERS AND THE NFT COMMUNITY.

THE MEM TEAM INTENDS TO PROVIDE REAL-WORLD VALUE TO OUR HOLDERS BY USING A LARGE PERCENTAGE OF THE MINT TO FUND YOUR PROJECTS WHILE ALSO PROVIDING 1:1 EXPERT GUIDANCE AND RESOURCES TO ENSURE YOUR SUCCESS!

IF YOU JOIN THE DISCORD BEFORE THE MINT, YOU WILL BE ABLE TO SUBMIT YOUR PROJECT PITCHES. AT SELL OUT, THE TEAM WILL SELECT 3 PROJECTS AT RANDOM FROM OUR HOLDERS TO RECEIVE FUNDING AND TO JUMP START YOUR CREATIVE JOURNEY AS A NEW META ESTATE MOGUL AND SOON INDUSTRY TYCOON!

THAT IS NOT AT ALL WHAT WE INTEND TO OFFER.

A PORTION OF THE ROYALTIES WILL BE DEDICATED TO THE COMMUNITY.

25 OCULUS QUESTS AND A WORLD-CLASS ENTREPRENEURSHIP E-BOOK

GIVEAWAYS:

25 OCULUS QUESTS AND A WORLD-CLASS ENTREPRENEURSHIP E-BOOK
META ESTATE MOGUL NFT HOLDERS RECEIVE $1000-$2500 ETH GIVEAWAYS PER WEEK 12 MONTHS OF TOP SHELF EDUCATION VIA THE UNEMPLOYABLE ACADEMY 1:1 MEETINGS WITH REAL WORLD MOGULS AND INVESTORS
OUR MISSION IS TO FOSTER THESE COMMUNITIES AND PROJECTS AND PROVIDE THEM WITH GROWTH, WEB 3 EXPERTISE, AND BEYOND,WHICH WILL BE AVAILABLE IN OUR MONTHLY MOGUL ROUNDTABLE MEETINGS WHERE HOLDERS IN THE TOP 1000 RARITY WILL BE ABLE TO PRESENT PROJECTS THAT CAN RECEIVE UP TO 100% FUNDING

YES, YOU READ IT CORRECTLY! BY HOLDING A TOP 1000 META ESTATE MOGUL NFT, YOU HAVE A HIGH CHANCE OF GETTING YOUR NFT PROJECT FUNDED ALONG WITH MENTORSHIP TO ENSURE THE HIGHEST CHANCE OF SUCCESS, WITH A PERCENTAGE OF THE REWARDS GOING BACK TO THE PROJECT AND COMMUNITY. PROJECTS INCLUDED IN THIS CATEGORY INCLUDE:

NFT PROJECTS, REAL ESTATE INVESTMENTS, TECH INVESTMENTS, BUSINESS START-UPS, AND WHO KNOWS WHAT OTHER AMAZING IDEAS OUR COMMUNITY WILL COME UP WITH!
THE TEAM IS FULLY DOXXED AND WE HAVE REAL-WORLD PARTNERSHIPS WITH A LARGE REAL-ESTATE INVESTMENT COMPANY WITH OVER 800 DEALS COMPLETED LAST YEAR TO SHOW OUR COMMITMENT TO FOSTERING A SAFE AND PROSPEROUS INVESTMENT AND THE IMPORTANCE OF YOUR TIME INTO THIS PROJECT.

SO, IF YOU THINK THIS IS TOO GOOD TO BE TRUE OR A RUG, THINK AGAIN. PULL UP TO THE TEAM AND SPEAK TO ANYONE ON THE TEAM!