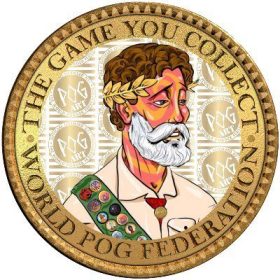 POG™-Player Owned Gaming, 10 Billion POGS Sold
The wildly popular POG Game sparked a worldwide craze of millennial collecting, trading, and playing. From 1994 to 1998, over 10 billion POG pieces were sold by official retailers in over 30 countries. (US, CANADA, RUSSIA, FRANCE, BRAZIL…). A USD 500 million business over only 4 years with USD 10 million in revenue per week.

California-based POG Unlimited, dba THE WORLD POG FEDERATION™, has held the trademarks and copyrights to the POG brand since 1993.

POG, The Game You Collect, was the first game and collectible sold as trading cards. POG discs featured artwork from POGMAN™, the brand's legendary mascot, as well as more than 100 licensed brands like Disney Pocahontas, Lion King, Toy Story, Star Wars, Barbie, Smurf, Sonic, Donkey Kong, Power Rangers, Pokémon, the NHL, and more… And now we are bringing our collectibles to the Solana Blockchain.