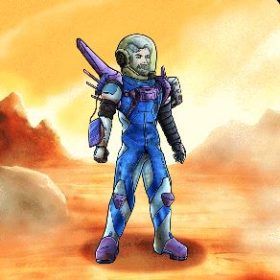 NFT Primo Martians the first Generation to be born on mars
Q.1 2022 Roadmap - Development and Project Launch Creating artwork for the PrimoMartians: We are compelled to create a hand-drawn, one-of-a-kind NFT collection that best tells our story.

💻 Creating and developing the PrimoMartians.io website: For your future PrimoMartian, our website will serve as our business card. Our web development team all share the same extraordinary vision for the PrimoMartians Project, which will be visible on the website.

👭 Developing the PrimoMartians Community: We are currently developing the PrimoMartians Instagram and Twitter pages to showcase the progress of the art work and keep you updated. Our team is also working on creating a Discord channel where all future Primos can come and share their thoughts and ideas. Our priority will be to keep the Discord community alive and to work on whitelisting our Dedicated PrimoMartians Community Members.
Q.2 2022 - We've taken off! The PrimoMartians have arrived: we will show you the first artwork of what your PrimoMartian might look like! We'll show you a glimpse of Primo Future!

The clock is ticking, and we will open the Presale minting page for all whitelisted PrimoMartians Community Members.

The time has come for everyone who wants to be a part of the PrimoMartians to visit the main sale minting page!
Q.3 2022 - Promises Kept Let's talk, and meet the PrimoMartian: we'll be hosting a number of events on Discord with the goal of hearing your thoughts on the PrimoMartians, and what you liked and didn't like. Our goal is to keep this project going based on your preferences.

🦄 Pay it forward: As promised, the PrimoMartians Project is dedicated to supporting Animal Rescue Shelters. We will create vote polls to determine which animal shelters will receive donations based on your and the rest of the PrimoMartians Community's choices.
Q.4 - 2022 It's time to make you happy. Let's bring those Animals to Mars: our team will contact each of the animal shelters to which we donated money and request pictures of the animals for use in our future project, PrimoPets!

📷 Make you smile: our team will be sharing all of the photos received from Animal Shelters with the PrimoMartians Community, and we are confident that it will put a smile on your face!

Let's show off your PrimoMartians: our team will begin delivering the Digital frame to community members who own more than two PrimoMartians. All of your PrimoMartians will be displayed in the digital frame.

Let's talk again: we'll be holding a number of events on Discord to hear from our beloved Community once more. We will hold a poll to determine the location of the first PrimoMartians real-world event, which will be themed Mars.
Q.1 2023 - The Dawn of the Future Days one, two, three Go, PrimoPet: Based on all of the pictures received from animal rescue shelters, our team will begin developing the first PrimoPet traits. We'll work on integrating PrimoPets and PrimoMartians. For future announcements, sales, and presales, the PrimoPets Project would have a dedicated page.

PrimoPets are on their way to Mars: Our team will begin creating artwork for the PrimoPets, as well as hand drawing the traits.
Q.2 - Let's Make Mars a Better Place in 2023 The PrimoPet is Alive: The PrimoPet will be delivered as a benefit to PrimoMartians Community Members who own more than one PrimoMartian.

👩‍👩‍👧‍👦 The future is always more promising: Our team will collaborate with other teams to bring PrimoMartians and PrimoPets to the PrimoVerse; we share your excitement, but more information will be released in the future.
Collections in Secondary Market