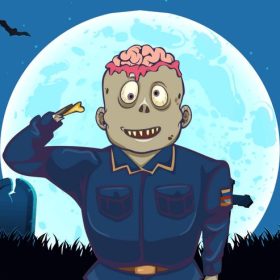 10,000 zombies rise from the world of the dead
Minting will begin in June 2022. The Zombie Corporation is the first step toward establishing a Metaverse in the world of the dead! Collectors from around the world will be able to obtain a one-of-a-kind Zombie Avatar. Leave the real world and travel to the other world, where darkness reigns and bones rot. Try it out to see which of our characters you get.

Zombies are a collection of 10,000 NFTs (Non-Fungible Tokens) with hundreds of exciting visual characteristics. The avatar is made up of a body, a head with unique features, and amazing costumes set against stunning illustrations. The project is aiming for further expansion, as detailed in our roadmap. Collectors can expect exclusive access to the latest products as a result of Zombie ownership. We value the community, and in the future, all collectors will be able to contribute to the metaverse's development and receive additional benefits.