Significant collection
Significant collection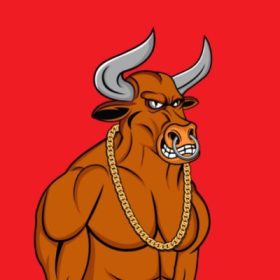 Unique and Programmatically generated 10,000 cartoon style NFTs based on the Polygon Network (MATIC)
Pre-Mint Price: 100 MATIC
- Historical context
Bulls with genetic mutations as a result of genetic manipulation experiments conducted in the 1940s. Internal strife occurs as soon as testosterone is injected into the bulls for testing prior to the human experiment, and they flee. They had belligerent personalities and a desire to conquer as a result of the excessive injection of testosterone that could not be removed during the escape process. They do, however, have a good heart from the start, so they suffer from double characters.

- An enraged bull
Angry is his name, and he has large horns, rising trapezius muscles, and powerful shoulders. Despite the fact that he is a herbivore, people are afraid he will eat them right away. He is an ambitious creature with grand plans to conquer the world, but he has a kind heart.

'Angry' is constantly considering how to make a charismatic expression.

- Justification
He usually acts destructively by conquering activities in his double characters, but at home, he enjoys listening to Angus Young's (AC/DC) Black in Black and has a hobby of bathing in the lower body. He prefers a dandy look, but he is aware of other people's gaze and dresses in a macho style.

On the outside, Angry is aware of other people's gazes, but on the inside, he has a pure heart. And he is a reflection of vicarious satisfaction that represents modern people's reality. Appreciators are somewhat relieved by his angry demeanor.