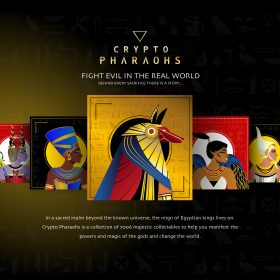 7006 cryptographically unique majestic collectibles endowed with the power and magic of ancient Egypt.
In a sacred realm beyond the known universe, the reign of Egyptian kings lives on. Crypto Pharaohs is a collection of 7006 majestic collectables to help you manifest the powers and magic of the gods and change the world.

Each crypto pharaoh is cryptographically unique, programmatically brought to life, endowed with a rare combination of sacred backgrounds, majestic costumes, power neckpieces, healing accessories, magical staffs, immortal tattoos and much more.

All Crypto Pharaohs are remarkable, magical, and powerful. Some are rarer than others.

Those who claim their Crypto Pharaohs early will get a chance to access sacred spells with untold powers. Until then join the community and start your preparation for the grand adventure.