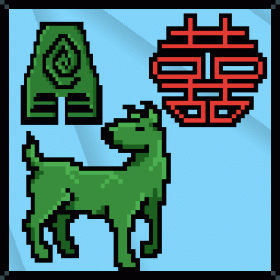 Collection of 6,000 unique combinations of the Chinese Zodiacs with Elemental and Luck symbols
Lucky Zodiacs is a one-of-a-kind collection of 6,000 unique combinations of Chinese Zodiacs with Elemental Symbols and powerful stamps for Wealth, Happiness, Prosperity, and Luck to seal their good fortune. In the physical world, this space is massive, and seeing a huge gap in the NFT space, we are creating the first exclusive editions! 

Each month, we will release a new Zodiac, minting 500 per release, with the final collection releasing on January 22nd, 2023, to coincide with the next Lunar New Year. The Water Rabbit is the animal of the year. Join our discord and follow us on twitter for all exclusives, announcements, giveaways, and updates as we build this community and grow the project!
Utility will be added to the project with the NFT's acting as keycards for access. Utility will be both within the metaverse and in the physical world. Projects are underway and will be announced throughout the month to month minting phases.
Collections in Secondary Market