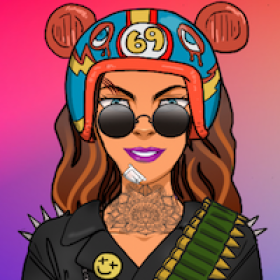 The Badatars are based on comic books female superheroes, from Harley Quinn and Wonder Woman to Supergirl & Catwoman.
By introducing female characters, the Badatars collection aims to make the NFT space more inclusive and diverse.

The one-of-a-kind Badatars are inspired by female superheroes from comic books, such as Harley Quinn and Wonder Woman, as well as Supergirl, Catwoman, She Hulk, and Tank Girl.


Each NFT includes full membership in an ever-expanding community. Badatars is a collection of 5000 NFTs, which are one-of-a-kind digital collectibles that live on the Ethereum blockchain. There are six 1/1 original comic backgrounds included, as well as the coordinating female superhero Badatar.


You get to decide the Badatars' fate! The founders and holders of the characters drive the roadmap. Future plans include an exclusive comic book airdrop for Holders, merch, and collaborations with artists, as well as the creation of short films based on the characters.