Significant collection
Significant collection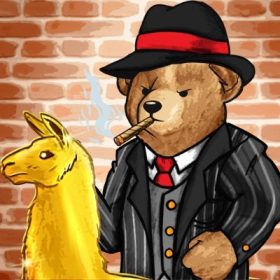 Dope Art & Great Utility for an affordable price. Enough of the cute animal projects, we're about business.
WHAT ARE WE EXACTLY? 
Bangsta Bears are 5,000 Gang Bangin' Bears on the Blockchain. Enough with the cute animal crafts; these bears are all BUSINESS! We ran a genesis series called Bangsta OGs on the Ethereum Blockchain. Only 250 of these will ever be made! On February 11th, the remaining 4,750 will be available on the Solana Blockchain. Join us and be a part of something historic. 

Members of Bangsta Bear will have direct access to our creator Erk, who will host weekly classes (for members only) on a variety of topics such as NFTs, Crypto, Stocks, and more! Top holders and OGs will be able to schedule one-on-one meetings at least once per month. 

Bangsta Bear owners will be able to reap the benefits of owning a bear. A token will be created with big plans for distribution, but Bangsta Bear holders will own the majority of it. More details can be found in our roadmap channel on Discord! 

Access is restricted to members only. Stock, cryptocurrency, and NFT calls, as well as analysis and a daily market review 

Access to the Metaverse for our future property purchase, as well as the creation of a custom Bangsta Bear character (if the land we choose allows it). 

FREE ACCESS TO AIRDROPS AND POTENTIAL FUTURE ACTIVITIES 

Early "whitelist" / presale access is available for popular new ventures. 

Many more benefits will be realized once the community votes on how to spend community funds!