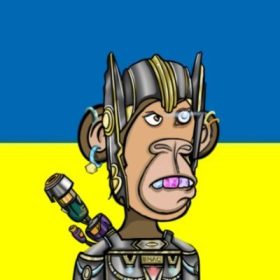 The Best, Amazing Gamefi NFT! Play & Earn in BMAC.
EVEN THOUGH MANY APES ARRIVED SINCE OCTOBER 2021, THEY WERE MOSTLY CHIMPANZEES WITHOUT ANY REAL FORM OR FUNCTION IN THE METAVERSE.

BUT THE BORED MACHINEAPE ARE NOT THE SAME!

WE IMPROVED THE APES BY MECHANIZATION AFTER THE RESEARCH AND DEVELOPMENT OF THE BORED MACHINEAPE CLUB (BMAC). BMAC EVOLVED 5000+ APES, INCLUDING THEIR WISDOM AND BODY.

BMAC AND THE BORED MACHINEAPE ARE READY IF THE STAKES ARE THEIR LIFE AND LEAVING A MARK ON HISTORY.

THE END RESULTS OF MILLIONS OF YEARS OF EVOLUTION BORED MACHINEAPE COMBINED IMPROVEMENTS IN WISDOM, PHYSICALITY, AND GEAR.

NOT ONLY WILL THE BORED MACHINEAPE FIGHT AGAINST EXTRATERRESTRIAL LIFE, BUT THEY WILL ALSO COLLECT THE COINS SPREAD ACROSS THE WORLD FOR BMAC AND THEIR MASTER TO REPAY THEIR KINDNESS OF UPBRINGING.

THEIR APPEARANCE IS OBVIOUSLY BENEFICIAL IN HELPING HUMAN RECAPTURE EARTH DOMINANCE AND RE-BUILD OUR URBAN. FINALLY, BUT NOT LEASTLY, KICK EXTRATERRESTRIAL LIFE'S ASS.

AS THE STORY OF THE BORED MACHINEAPE UNFOLDED, OTHER METAVERSE HABITANTS COULD NOT HELP BUT JOIN BMAC AGAINST THE UNFAIR AND EXTRATERRESTRIAL LIFE. AND RECONSTRUCT OUR FUTURE...
Collections in Secondary Market