Significant collection
Top collection
Significant collection
Top collection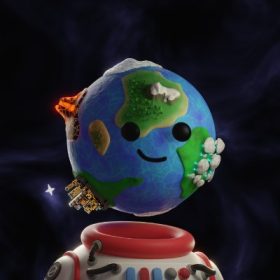 8888 COSMIQS Floating in Space.
After eons of dancing, two neutron stars known as the Ancients came to a halt. The collision of two supermassive stars resulted in a supernova explosion. Strange Matter was introduced into the universe as a result of the neutron core explosion.
The Matter then infected everything it came into contact with. This gave birth to new life in the vacuum of space. There were 8,888 vibrant, but strange, cosmic entities born. The Cosmiqs are their name.
But what is in store for them in the future? There are infinite possibilities all around these limited beings. Come along with me and let's find out together; this is only the beginning!

What exactly is a "Planetary Pass"?

Our themed term for our Whitelist is the Planetary Pass. As this term is just a role within the Cosmiqs discord, there is no physical pass. You have a whitelist spot in Cosmiqs if you have this role!

How many COSMIQs can I produce?
1 COSMIQ per Planetary Pass Candidate (PPC), 1 COSMIQ per Galactic Pre Pass (GPP), 2 COSMIQS per WL (PP) wallet, and 2 per Public Sale transaction

How do I stand out in Cosmiqs?
Just have fun! We want to foster a strong sense of community here. We, as founders, recognize the importance of a strong community and want to promote and encourage genuine connections and friendships. We will make an effort to recognize and reward those who are here for the long haul.