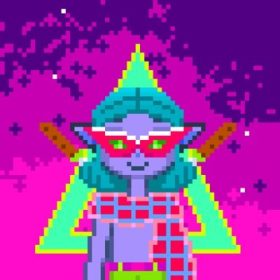 First to build the future of Advertising | Services WEB 3.0 platform marketplace to connect creators, influencers and Metaverse land owners with brands.
We are a collection of 77 completely unique NFTs on the blockchain, and our collection is linked to a Web 3.0 DAO Marketplace-like advertising platform that will soon connect Metaverse Land lords and real-life influencers with BIG Brands!

The "Creators.Social" community created Crypto Illuminati 777.

Each token (NFT) grants you access to our holders app, where you will receive a (percent) percentage of "Creators.social" REV-SHARE!

We will issue a currency linked to our DAO platform utility in order to use it as the platform's primary currency!

Early Enlightened Masons on the whitelist will be able to mint at 0.07 ETH, with a sale price of 0.17 ETH.

We donate 5% of our profits to non-profit organizations in Haiti and the Dominican Republic.