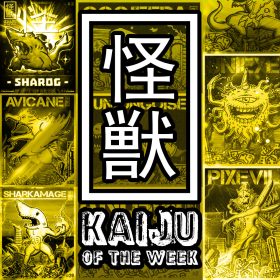 An NFT tribute to Japanese Kaiju (怪獣) & Tokusatsu (特撮) cinema, featuring original monsters in collectable cards.
Kaiju of the Week is a WAX NFTs project that features a new Kaiju trading card each week. I create OC monsters in order to build my own Monsterverse in NFT form.

In the not-too-distant future, large, strange monsters (Kaiju) emerge from the earth's crust to claim dominion over the human world. Collect these Kaiju's digital cards as they appear week after week to terrorize our world!

Stuhammer created the original characters and the NFT art.