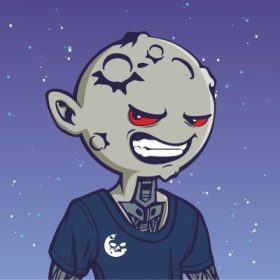 Community-driven NFT project, the beginning of M00N City DAO - a digital meta-city.
What exactly is Lunar Colony Alpha? 
The M00N City DAO, or Lunar Colony Alpha, is a community-driven project that marks the beginning of the M00N City DAO - a digital meta-city built and ruled by its citizens. 10,000 distinct Alphabots NFTs await their owners to join them on a m00n mission to lay the groundwork for the first-ever M00N City. 
The Alphabot ownership allows you to participate in decision-making and shape the project's future development. Everyone pays the same price - each Alphabot token costs 0.08 ETH (+gas), and owners gain commercial usage rights over their NFTs. 
You can earn LUNAR tokens by staking Alphabots. 
With the progress of the project and the approval of the LCA community, we will work to add future utility to the LUNAR token, such as: 
Minting 
NFT Customization 
Destroy or seal characteristics 
Curating your own concept (refer to M00N City's documentation) 
The LUNAR tokenomics proposal can be found at m00n.city. 
Disclaimer: LUNAR is the token (ERC20) of M00N City and will be used within its ecosystem. It is not money and has no monetary value!