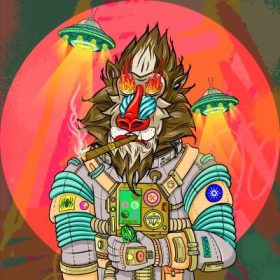 Welcome, Broooar! 10000+ Drillz - and the beat goes on. 2022 is the year of the horde.
A meteor lands near a zoo. The mandrill enclosure has been mostly destroyed. Some animals are able to flee, but they carry meteor splinters in their bodies. While fleeing under a bridge, they come across a graffiti crew, who immediately flee, leaving clothing, jewelry, spraycans, beer, and other items for the Drillz to collect. The Drillz continue to flee into the big city's urban jungle. Leondrill, the leader of The Mandrillz horde, is a caring individual. His goal is to reintroduce the apes to the streets. He aspires to turn the urban jungle into a true jungle. Building for building's sake. For street by street. For city's sake.
This is THE MANDRILLZ's story, and...
BROOOARR! WE ARE THE DRILLZ!