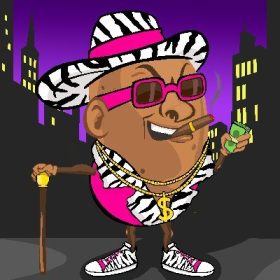 Potato Pimps are 10.000 randomly and unique NFTs on the Ethereum blockchain.
What is a Potato Pimp, exactly? 

Potato Pimps are Ethereum blockchain NFTs. There are 10.000 Potato Pimps in the collection. The criminal masterminds in Vegetable Ville are Potato Pimps. 

Our Vision for Vegetable Ville 

Our overarching goal is to create multiple NFT collections, each with its own utility. Vegetable Ville is comprised of these various collections. The Potato Pimps are up first. A Potato Pimp is, as the name suggests, a pimp. Every pimp's goal is to make as much money as possible. They accomplish this by forcing their Chili Call Girls to work for them. 

Chili Call Girls is our second NFT collection, following the success of the Potato Pimps. If you want to look at a Chili Call Girl, you can find one on this page. Let us know if you found it and how you like it on Twitter or Discord. 

We currently have two more collections in the works, which will be released one after the other. But we don't want to give too much away.
Collections in Secondary Market