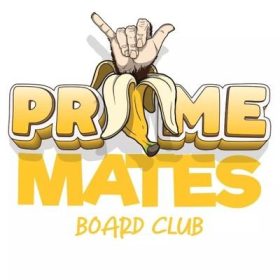 PMBC is a generative NFT collection of 2,222 unique, hand-drawn primate shredders ready to drop into the metaverse.
WHAT EXACTLY IS THE PRIME MATE BOARD CLUB?
Prime Mates Board Club is a generative NFT PFP collection that includes 2222 unique, hand drawn primate shredders that are ready to be dropped into the metaverse for Season One.

Prime Mates Board Club promotes the experience and stoke that come hand-in-hand with board riding culture, as well as the camaraderie, support, and good-vibes machine that these sports are at their core, through an all-inclusive community approach to project development, evolution, and growth. Along with this Prime Mates Board Club, we're creating a one-of-a-kind collaborative artists networking platform and board-centric charitable organization architecture to keep the creative juices flowing and ensure we're giving back to the community that has given us so much.

WHAT DIFFERENTIATES US?
One of the key components that distinguishes Prime Mates Board Club from the competition is our outlook and projection for the project's future. Focusing on a diverse and substance-rich model that includes active community engagement and transitions this project from a digital experience to an IRL socialization asset tool library for all members. Bringing people and communities closer together through the shared experience of board riding, as well as a celebration of creativity, passion, and individualism. The true thrill of standing sideways is immersing oneself in a warm community and culture of acceptance, diversity, support, and independence. It is a work of true beauty that should be shared with the rest of the world.

The board graphics featured in the collection design are truly unique, and the collaborative artist networking platform that this creates is something that we at Prime Mates Board Club are extremely proud of. Creating a positive and upbeat environment for creatives from all walks of life to connect, get their hands dirty, and expand on their creative expression with others from all over the world is truly amazing, and we're excited to see how far we can push and develop this arm of the project.

Doing our part and ensuring that the Prime Mates Board Club looks after the people and organizations who tirelessly and selflessly look after us is also something we're very excited about. Due to the involvement of board-centric charities in the project, all members can be proud of their NFT ownership and commitment to something of true value and substance, knowing that they are all individually responsible in some way for helping to support something special.