Significant collection
Top collection
Significant collection
Top collection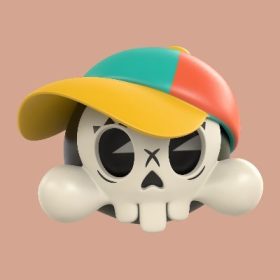 Fully 3D Art built to provide genuine utility, Metaverse Development & World Domination
Skulltoons is a Fully 3D artwork created to provide genuine utility, Metaverse Development, and World Domination.

Artist of Neo-Pop Theodoru is the type of artist who would be a natural fit for the world of non-fungible tokens.

He uses a variety of media to bring his visions to life, including 3D, vector, traditional drawings, collage, mixed media, and photography. Even if his cheerful, bizarre, and colorful characters appear to be a little menacing at times in their fantastic environment, they are ultimately friendly.

Even if you don't know who Theodoru is, you've probably seen his work; from balloons in the Macy's Thanksgiving Day Parade to vinyl figurines, his distinct and distinct style is instantly recognizable.

Here's what the artist says.
My childhood and adolescent taxidermist experiences were undeniably influential on my work. Classic cartoons, which I grew up with and still enjoy today, have also had a significant influence on my work. All of the Disney, Max Fleischer, Ub Iwerks, Grim Natwick, and Hanna-Barbera cartoons have had a huge influence on my character-based work.

Another significant influence is the work of Hieronymus Bosh, as well as the Surrealist movement and Pop Art artists such as Lichtenstein, Warhol, and Haring.

Skulltoons collection
With over 23k twitter followers and nearly 50k in discord, this project is likely to follow in the footsteps of other well-known projects such as Azuki and Clone X. When pricing information becomes available, we will notify the NFT Culture Community.

The Skulltoons team is putting a strong emphasis on security in the NFT space. As this space and our project evolve, it becomes increasingly important to be safe in the scene. One method is to disable your Discord DMs and make it impossible for anyone to DM you. You can also enable notifications for our announcement channel, as we will be posting a lot of important SKULLTOONS-related information there! Make certain that you do not connect your wallet to any website and that you do not click any links!