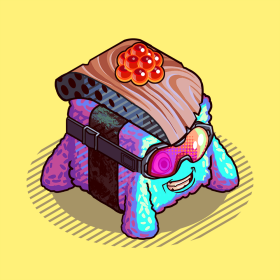 Collectible Blocks for sushi lovers and foodies alike, connecting culture through food and supporting local businesses.
Mint Price: 0.04 - 0.06 ETH
Sushi Blocks is a game that consists of 5,555 sushi critters, each with their own set of mutations. We're creating the first-ever Metaverse Izakaya, an international community of sushi lovers and foodies who want to connect cultures through food! Members can expect community-sourced local food guides, exclusive collaborations, merch, and 3D printed collectibles. Most importantly, we're establishing a community-driven charity fund from mint proceeds to make quarterly donations to local restaurants around the world, as voted on by the community! Hello and welcome to the Izakaya.
Collections in Secondary Market