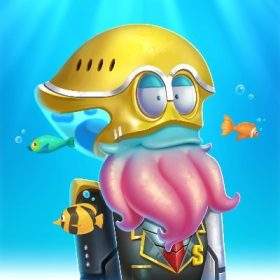 The Oceanos are NFTs for a good cause: A unique collection of 3'335 Oceanos are protecting our oceans.
The Oceanos are the Seven Seas' protectors. For hundreds of years, they have been in charge of protecting an ecosystem that is critical to human survival: the oceans, our planet's lungs.

The Oceanos clean the oceans and contribute to the balance of our atmosphere, ensuring the health, safety, and food of all species. However, in recent years, their prized universe has been invaded by a man-made enemy: plastic waste. 1 truckload enters the oceans every minute.

The Oceanos have decided to fight back in order to save the fauna and flora of the oceans. They have assembled a formidable team of 3'335 carefully chosen members, each of whom is contributing to the fight against plastic pollution.

These fantastic creatures live in the Oceanverse and require our assistance. As a result, the Oceanos have teamed up with a real-world label: #tide ocean material®. #tide is an international award-winning company that collects and upcycles plastic on islands and along coastlines while having a significant environmental and social impact.
Collections in Secondary Market