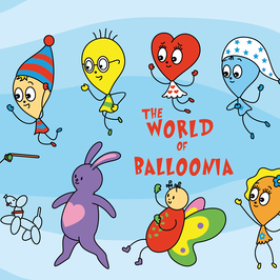 The newest NFT treasure takes place in the hand-drawn universe of Balloonia, which has characters that are one-of-a-kind.
The creation of a new, better, and friendlier world in which only one thing matters: joy.

Balloonia is the setting for the next NFT treasure, which takes place in the realm of hand-drawn illustrations. In a world where happiness and joy are considered a natural right, it is possible to find yourself in the most humorous and remarkable circumstances. These small amusing creatures find themselves in a variety of side-splitting, bizarre, and heartwarming circumstances throughout the book. For example, a snake may develop feelings for a power wire. This collection of hand-drawn illustrations is about coming together, becoming friends, and loving one another. Because each and every character has been created independently, they are one of a kind as well. The collection is always growing, with new and unique stories being added, and these are then posted to the OpenSea marketplace for the benefit of collectors.

And don't forget about it!
ALWAYS BE CAREFUL when you're gazing at them. Certain mental problems, such as pathological merriment, an addiction to laughing and playing, among others (which is particularly contagious), are fought by some of them.

Take excellent care of them.