Significant collection
Significant collection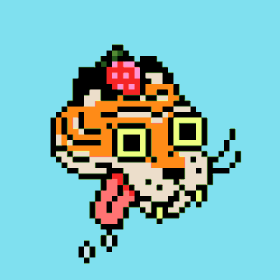 hello yes this is tigerbob. Tigerbob are handmade tigers by Gossamer Rozen.
Tigerbob NFT is a set of 1,000 handcrafted pixel tigers' heads. The collection includes elements, colors, and themes from Gossamer Rozen's ever-expanding body of work. The collection includes 13 signature themes, or color palettes, that determine the mood and personality of each type of tigerbob. Each tigerbob in the collection was hand-picked by Gossamer from a pool of over 1,000 traits.
Gossamer's signature tiger head was one of his first tattoo designs in 2019, and it has since been iterated as tattoos, illustrations, and sculptures. The Tigerbob NFT project's goal is to present and solidify the Tigerbob brand within Gossamer Rozen's body of work, as well as to fund future artistic endeavors.
Collections in Secondary Market