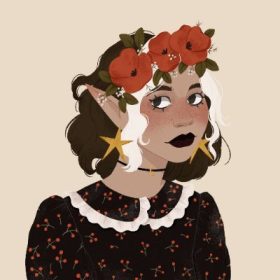 7000 of cute and magical sisters
Whimsy Sisters is a generative pfp project that encompasses all things magical. It features a diverse cast of characters ranging from gentle fairies to vampires and witches. This project embodies the founder's love of art, nature, and whimsical characters. Flowers, stars, wild berries, and all things celestial, woodland, and witchy inspired it.

This project began as a creative outlet for our artist, as it was a great experience for her to do whatever she was most passionate about and have complete creative freedom with no limitations. And we hope you find something in this project that speaks to you, whether it's your character's traits or features, the sense of community we're creating around our project, or the art itself.

The idea behind calling these girls "sisters" is that they are sisters of the woods, linked by nature, magic, and friendship. We'll leave it up to you to figure out the backstory for each character. We don't want to be shackled by a specific story or limited to a single theme. We want this story to be fluid and each character to be unique, so whatever resonates with your experience can be incorporated into your character's story, and there will be opportunities to share it with us!