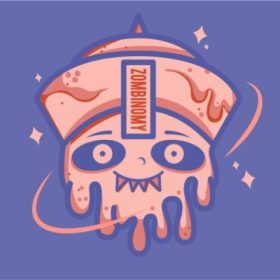 Zombinomy is a NFT collection of 10,000 creepy and buzzy zombizz.
Zombinomy is an Ethereum Blockchain NFT collection; it is also a society where 10,000 creepy and buzzy Zombizz vibe and thrive.

Zombizz are mysterious creatures discovered on a mysterious metaverse land. They are powerful, nearly immortal, and resemble zombies. There is still a lot to learn about the Zombizz.....join our discord to learn more about the Zombinomy!

Each Zombiz NFT is one-of-a-kind and is made up of seven different parts: the background, the skin, the hat, the hair, the eyes, the mouth, and the clothes. Our partnered design studio created the artworks exclusively. The Zombizz prototype is based on Chinese Jiang-shi folklore and legends. Also, when designing the elements of Zombizz and Zombinomy, Asian and Western tales, as well as Gen Z culture, served as primary references.