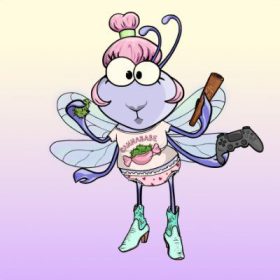 6 unique NFT collections to heal the world donations increase with each collection ultimately reaching 100%
With increasing scientific progress, excessive rationality and greed for the unnecessary, the belief in magic dwindled over time, and with it, magic itself. Its absence, however, put people on an evil path, and Earth thus out of balance. She cries for help, but its dwellers are too busy with their misery and too weak to follow this call. But completely unheard, it does not remain...

Back then, when all magical beings left the planet, a handful of fairies missed the transport and stayed behind. After panicking at first, the 420 forsaken smoked some weed to calm down, then accepted their fate, retreated and have been indulging in their vices ever since. The desperate call now reached them nonetheless. Some of them, at least. Well..., one. But this one, ready to follow the calling, now gathers her sisters together, slowly but steadily. All 420 of them.

Although still incomplete, the fairies do not remain idle. They send swarms of helpmates ahead, the first being the Baked Bugs. Adopt one or more of them and help heal the world. Because we're all in this shit together.
Collections in Secondary Market