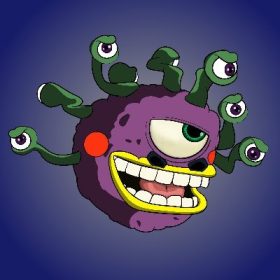 Beholders War is a play-2-earn game based on Ethereum blockchain.
According to history, the first mention of beholders was in 1974, and they were first described in 1975. They were first identified as omnivorous, genderless aliens, and they piqued the interest of both sages studying biology and hunters attempting to kill them. As a result, there was a wealth of information available on beholder anatomy.

Beholders are easily identified as a floating head with a single, cyclops-like eye surrounded by smaller eye stalks. Aside from this, the most distinguishing feature of a beholder's anatomy is its massive, gaping maw. Because of these characteristics, beholders are sometimes referred to as "spheres of many eyes" or "eye tyrants," though the latter term also refers to a specific type of beholder.
Collections in Secondary Market