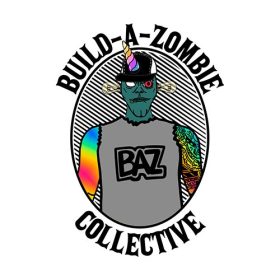 Build-A-Zombie Collective
ZombieFeet is part of the Build-A-Zombie Collective - four Zombie part collections used to create a unique Zombie NFT.
Satisfying your need for Zombie Feet Pics. ZombieFeet is a collection of hand-drawn NFTs, buried in the Polygon Blockchain. 10,000 ZombieFeet combinations have been randomly generated, from over 290 traits. Designed by the owners of Squishy Creative, LLC, a husband and wife team in Chester County, Pennsylvania, ZombieFeet was created as a family endeavor with their sons' eagerly participating in the brainstorming. The kids came up with some of the best ideas!

ZombieFeet is part of the Build-A-Zombie Collective - four Zombie part collections made up of the ZombieFeet collection as well as the future ZombieLegs, ZombieBody, and ZombieHead. The whimsy of the ZombieFeet collection will continue for the rest of the parts as each additional collection will contain gruesomely fun traits.

The Genesis NFT collection, ZombieFeet, will go on public sale April 22nd, 2022 at 8 am EDT on Opensea for 0.025 ETH each. According to their roadmap, they intend to release the remaining collections each month after the initial launch and provide them to all original ZombieFeet NFT holders free of charge (not including gas fees) via BuildAZombie.xyz.  

Once all zombie parts have been released, owners of all 4 parts will be able to mint a Build-A-Zombie NFT, at no additional cost.  The constructed zombie will utilize traits from the four zombie parts in fun and surprising ways to make a unique zombie.  Their resident zombie representative, who they have named Baz, is an example of a completed zombie using a combination of traits.  Baz started out as a simple zombie foot with a unicorn horn, a ring piercing, and a light bulb, but has become so much more.

BAZ NFT owners will be able to decompose their constructed zombie back into parts, mix and match to make a new creation, and see how the traits interact to form a new, unique zombie. 

The team is also planning to include their community in future decisions, create a charitable arm of their project, and expand utility further in the future.  As always, future expansions and modifications will be delivered at no additional cost to ZombieFeet NFT holders.  Make sure to follow them on social media and join their Discord to keep up with their journey.
Collections in Secondary Market