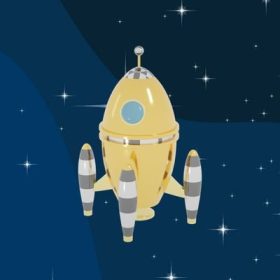 Unique, handcraft and rendered rockets which can be flown in the space dome. 300 Rockets available.
We have an exciting roadmap ahead of us that will bring utility and fun to all NFT holders.

What exactly is the Space Dome? Well....

The Space Dome is where all NFT holders can send their rocket into space - you have the NFT, we have the code and backend to make it happen. This is currently in development, and we will be releasing videos of it shortly:)

Your rocket NFT will fly around the Space Dome, complete with asteroids, aliens, and planets, and you will be able to track the rocket's location within the Dome.

There is a reason why our NFTs have four backgrounds. This specifies the landscape in which your rocket will operate (Mountainous, Desert, Lakeland, Alien)

Once the Dome is finished, we will add modifications to the NFTs so that you can personalize your rocket with various visual and technical improvements.

We're excited, and we hope you will be as well if you decide to join us on this adventure!