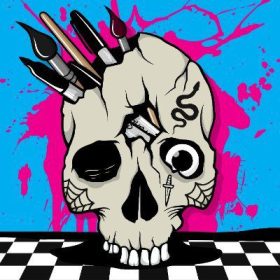 Bridging skate art culture into the metaverse! A community driven project focused on style, creativity, & originality.
THE EMPTYHEADS SOCIETY IS A COLLECTION OF TEN THOUSAND EMPTYHEADS.
Inspired by traditional skateboard graphics, skate artist Matt Ramage aka @Luncht3am created this design. Through strategic merch drops, brand collaborations, and events, we hope to bridge the gap between Web3 and IRL skate / lifestyle culture and fashion. The Emptyheads Society is a community-built brand, with our holders driving its growth from the ground up. We don't know where the Emptyheads came from, but we do know where they're going.

THIS IS JUST THE BEGINNING...
Ownership entitles you to vote on new community-proposed activations, merchandise, and experiences. These proposals will be paid for (once approved) by the Emptyhead War Chest, which will be seeded with 20% of the initial mint sales and funded by 40% of The Emptyheads Society after market royalties.

The Emptyheads are stored on the Ethereum blockchain as ERC-721 tokens and are hosted on IPFS. We use a low gas contract to reduce the cost of minting by up to 70%.