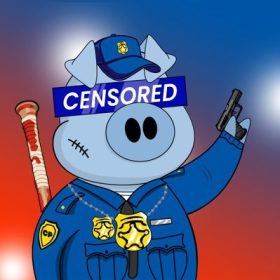 10.000 Censored Pigs on the ETH blockchain.
Censored Pigs is an NFT collection of 10.000 unique Pigs that mud on the Ethereum Blockchain together.

Every Censored Pig is one-of-a-kind, with over 160 possible attributes and traits. They are all created with love, but some are more rare than others.

Censored pigs give you access to the CP lottery and slot machine.

Every month, you have the chance to win the jackpot.
Every week, save CP Tokens and gamble them for ETH, Bluechip NFTs, Merchandise, and much more.