Significant collection
Significant collection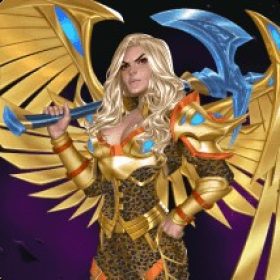 10000 Next Gen Play-to-Earn Legendary Hero NFTs.
Each Chosen Ones Hero is a distinct ERC721 warrior from one of Godland's eight kingdoms. These warriors have been chosen by their Gods to compete for ultimate supremacy with millions of possible randomized trait combinations. Each series will feature a cast of 10,000 characters. The first collection will feature four of our Heroes.

These powerful heroes have been meticulously handcrafted. Nothing compares to any other NFT ever released. Use them as avatars in the metaverse or in the upcoming play-to-earn auto-battler game.

Each character has unique characteristics, skill sets, and abilities, and by purchasing one of these, you will gain access to the exclusive Heroes Club and receive special benefits that will blow your mind and leave others in awe.

Fork Gaming is a true Esports and crypto enthusiast. We are the founders of Infinity Esports, the largest professional Esports brand in Latin America. We have pro teams for League of Legends, CS:GO, and Dota2 with over a hundred players and eighty streamers. Our gaming center (shown in the background) uses cutting-edge technology to bring the virtual to the physical. BMW, TikTok, Tigo, Logitech, Subway, Office Depot, and Kappa are among the major sponsors for Infinity Esports.

But we're not in this alone. We've partnered with Good Gamer Entertainment, a publicly traded company, as our exclusive game development studio. This team has a wealth of gaming experience from EA Sports, Disney, and Mechwarrior, as well as Ad-tech executives who founded Nativeads.com.

Unlike other projects that promise to build a game in the future, Fork Gaming has contracted a respected studio that has already begun development, and we expect our first P2E game to be ready in a matter of months!
Collections in Secondary Market