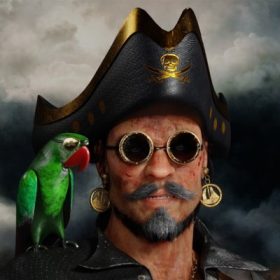 Welcome to the ultimate first of its kind UNIQUE 3D PIRATES inspired by the breakthrough of Web 3.0.
Hundreds of years ago, in the seas of Persia, there was a pirate known as the Jack Dowson. He became known as the Persian Sea pirate. Do you want to know the story? Let's get started: 

In his early years, Jack had a huge personality and was born into a poor family. He wore one eye cover, like his father "Adam," which helped the pirates fight in the dark. Jack loved eagles and had a lovely green-eyed parrot. His father "Adam" was well-known for capturing small ships, and everyone who cruised with him admired his ship-capturing brains.