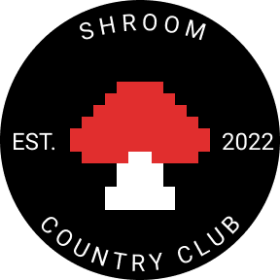 OG Bit Shrooms (Shroom Country Club)
The OG Bit Shrooms are the first 250/10K Bit Shrooms that will be apart of the Shroom Country Club.
Located on the Solana blockchain, the Shroom Country Club is the most thrilling club in the world! The club is now home to 10,000 one-of-a-kind, randomly created Bit Shrooms, which also serve as your membership card for the club. To become a member, you will be eligible for the following benefits: receiving Shrooms and Solana, and even competing in contests for prizes such as whitelist slots (for the Toon Shrooms), Golden Shrooms, and custom Shrooms. The SCC is also planning to integrate a staking platform, where you will be able to stake your Shrooms in exchange for $FUNGI, which will be able to be exchanged publicly and used to purchase Shroom merchandise!