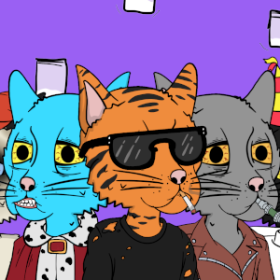 A tribe of 1500 cats that are addicted to crack. Every Crack Cat is a unique hand drawn cat.
Hello and welcome to the Crack Cats, a tribe of 444 crack-addicted cats. Every Crack Cat is a one-of-a-kind hand-drawn cat, but they all have varying degrees of rarity. They live in the underworld, which is directly beneath the earth's surface. Crack Cats rule the underground because they consume the magical crack every day. The only ones who know how to make the magical crack are the Crack Cats. All of the other animals tried and failed to steal the recipe. The magical crack endows the cats with the ability to read people's minds.


Crack Cats Collection Utility
Crack Cats will be arriving with a free mintpass. That means you'll be able to claim NFTs for free from our future collection.
As a holder, you are automatically entered into our Member Lottery. More information will be provided as soon as possible. Keep an eye out.
We are keeping an eye on the progress of PORTALS and SOLICE and will select one of those projects to purchase land and build a space for the Crack Cats.
We will work with well-known clothing companies to create exclusive Crack Cats merchandise for Crack Cats holders only.
We will work with other NFT projects, celebrities, and brands to provide our community with exclusive access to items.
The most active members of our Discord community will receive an additional Crack Cat NFT.
In the future, we intend to implement DAO, Airdrops, and a passive income system.

Looking at the entire blockchain market, Solana is undeniably one of the fastest-growing cryptocurrencies in the last year. It provides a plethora of opportunities for everyone. This fact strengthens the belief that Solana will be one of the most valuable cryptocurrencies in the future. We chose to release on the Solana Blockchain to be as fair as possible, given that there are virtually no gas fees.
Collections in Secondary Market