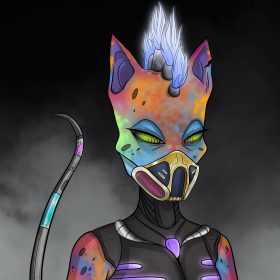 Become a member of The Crypto Paradox Club 7777 unique digital pieces of art We will take you to space!
Hello and welcome to The CryptoParadoxClub! 
The Crypto Paradox Club is a private collection of 7777 one-of-a-kind digital aliens stored on the Ethereum Blockchain. 
The first NFT to be launched into space. We will select three NFTs at random and physically launch them into space. The process will be documented, and you will be able to track their progress to space on our social media platforms. The value of the three will skyrocket. 
We intend to issue a Paradox Token. Having one or more NFTs in your possession will automatically add a certain number of tokens to your digital wallet. 
A new Paradox is already in the works. We will reveal the second character after Axe, the first alien on Earth, is sent into space. 
Holders of a 'x' number of Axe tokens will receive the second character for free. 
We're transporting Axe to the in-game World. Play to Earn assets in exchange for cryptocurrency rewards. After the game has been sold out, all of our members will be able to play the demo version!