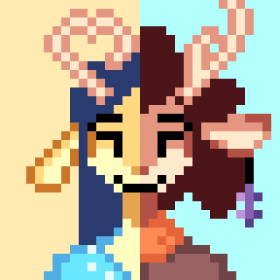 Hardcore onchain pixel art pfp, no IPFS, no APIs, only Ethereum
Dear Deer is a hardcore Ethereum onchain maxi pixel art pfp of 5k genesis deers.

No IPFS, no APIs, no pregen, only Ethereum. Means your deer will live forever until the end of time. Or the end of Ethereum. It doesn't depend on some cloud provider or some pinning service provider. Even in ten, hundred or thousand years it will only need Ethereum to exist. 

Our art is CC0 and all our code base is AGPL-3.0, we're completely open and community oriented. We built our drop based on our early discord members feedback and direct participation in our endeavors.

Our minting contract is ready to be governed by future DAO, and we plan to continue building around the genesis collection what our holders would like to see the most.

Our sprite router contract for onchain sprite storages exposes gassless view function for all the art we stored on Ethereum. It means to create a derivative you don't even have to pay deployment costs for the existing art, just take our router contract and use it. It's a decent stock of fine and beautiful 72x72 raster sprites stored completely on chain.