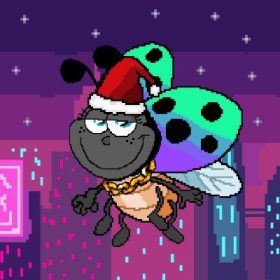 666 Degen Ladybugs flying in the solana Blockchain | $BUGS Token 50% Profit + Royalties back to Holders, CoinFlip & Dice Roll |
Mission.
Degen Lady Bugs is a new revenue-sharing casino concept that integrates blockchain-based games with the Solana network. Because we prioritize the community, 50% of our Casino's profits will be distributed to holders, and 50% of royalties will be allocated to the $BUGS liquidity pool.

Vision.
We want to make a safe haven for all degens where they can make 3D pixel avatars, customize their tools, and have a good time for many days. The majority of investments will be based on long-term potential and fundamentals, with the goal of returning as much value as possible to holders, the beating heart of the entire ecosystem. As part of our expansion, we intend to purchase lands on emerging metaverses and establish our one-of-a-kind meta-casino.

Place your bets, cross your fingers, and enjoy the adrenaline rush!
Collections in Secondary Market