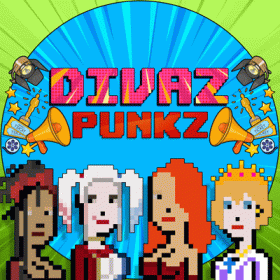 Divaz Punkz is an empire of 4444 high society, brilliant, trailblazing and talented Hollywood female punkz
Divaz Punkz (from the creators of Hollywood Punkz) is an empire of 4444 high society, brilliant, trailblazing, and talented Hollywood female punkz claiming the streets of Hollywood in their pristine attire and goddess demeanor. Every character is meticulously crafted to resemble the best actresses in Hollywood. These cosmopolitan characters achieve exclusivity through incredible elegance, crowns, jewels, and so much more. They will take over in Solana Studios, media outlets, and red carpet events.

Divaz Punkz intends to create a strategy-based Play-to-Earn metagame in which these NFTs will be able to interact. Each Mega Star NFT will have unique attributes and skills and will be represented as a character. As described on our website, this NFT collection provides utility and benefits to holders. The proceeds from the NFT launch will be used to crowdfund for the game, marketing, and operational needs.

Divaz Punkz will be rewarded when players complete missions throughout the game. As players progress through the game and reach a certain level, more difficult missions will be released, and blueprints will be awarded upon completion of these missions.

With Divaz Punkz, $OSCAR will be the in-game currency. These tokens can be used to buy in-game items such as features and upgrades.

We are constructing Divaz Punkz in Solana to provide widespread game usage with low gas fees and transaction times. The utility token, as well as all of our upcoming NFTs, will be built on the Solana blockchain.


The public minting will take place on the 11th of March 2022 at 18:00 UTC FREE MINT.

Divaz Punkz can also be traded on secondary markets, with each transaction incurring a 10% royalty fee (70 percent of all the royalties collected will be airdropped to the holders every month). Divaz Punkz intends to be tradable on all major secondary market platforms. All secondary market sales will result in regular royalty distributions. What is the end goal? Create a lifetime stream of income for Divaz Punkz minters and holders.

We are working hard to develop this project and community, as well as to introduce our full roadmap of features and releases to benefit both original Divaz Punkz holders and those who join us from the secondary markets.

Begin the process of launching your first Hollywood Idol here.

This is the beginning of your bright future in the spotlight.