Significant collection
Significant collection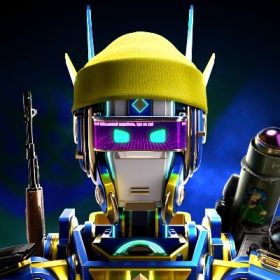 6669 DROIDz NFTs · 1st animated, CGI, NFT with Audio-produced Soundtracks, Led by a Team of Film, Game, and Entrepreneur Misfits
DROIDzWORLD is the first fully animated, CGI & 3D collection of 6,669 NFTs with music in the NFT World.

During the uprising of the technological age 2088, mankind created Droids in order to advance the human race. The Droids were created to help with menial, grunt tasks and were frequently mocked due to their childish AI mannerisms. When the Droids had had enough, they realized their true potential, renamed themselves 'The Droidz,' and created a new world called DROIDzWORLD.

In DROIDzWORLD, you can be whoever you want, and The Droidz were now viewed as rowdy and rambunctious. They frequently revel in celebrity adoration and truly idolize badass figures from new media and the arts. You can frequently see a Droid tearing through the streets with young-minded attitudes and nothing but a desire to be "Fresh."

Our team has an incredible technical and artistic vision, but they prefer to underpromise and overdeliver. We'll share more details as we get closer to the deadlines, but for the time being, we'll concentrate on execution.