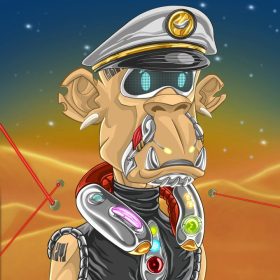 Be one of the 6,666 Apeventurers to join our expanse on Ethereum
2X99 is the year. Faced with extinction due to a scarcity of resources, food, and water, the apes revolted against their human overlords, seizing the technology as their own. Will you become their patron and assist them in conquering the Galaxy?

The Galactic Apeventures is a procedurally generated collection of 6666 Ethereum blockchain ERC-721A NFTs with over 100 hand-drawn unique traits inspired by science fiction and pop culture.

This new ERC-721 standard enables cheaper gas transactions on both single and multiple batch mints, allowing you to save money on your NFT transactions.

Our main goal is to build an inclusive, familiar, and strong community for all the other apes out there, and to help them navigate the Metaverse. In doing so, we hope to break down barriers between members from various backgrounds by empowering amazing artists and assisting the Ape culture in expanding to Infinity... and Beyond!
Collections in Secondary Market