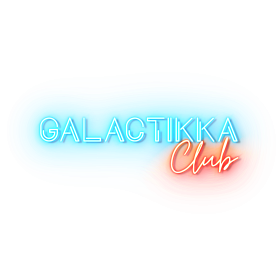 The Galactikka Club is a collection of 9999 unique aliens aiming to build the biggest sports betting ecosystem on Solana
The Galactikka Club is a collection of 9 999 unique characters derived from over 190+ hand-designed attributes on the Solana blockchain.

Each NFT is unique and comes with a unique feature. Galactikka Club has a Decentralized Sport Betting + CryptoLottery software on Solana. Join an aspiring, ever-growing community with a wide range of benefits and services.

The Mint will be held in January 2021. (the exact date will be announced shortly in our Discord). During this event, you can mint your own Galactikka for 1 SOL.
The 11 ultra-rare and special Diamond Outlanders: limited edition will accompany us on this voyage. They're all one-of-a-kind and hand-drawn. Join our Discord and follow the guidelines to try to get one.

The mint event will be accessible only on our official website. During this event, you will be able to mint Galactikka Club NFT for 1 SOL. Following the first minting operation, you can show and trade your Galactikka Club on secondary marketplaces such as Solanart, Magic Eden, Alpha Art, and Solsea.

We will develop the most entertaining decentralized Lottery and Sport Betting on the Solana Blockchain. Members of the Galactikka Club will own a portion of the company and receive monthly dividends. You're more than just a keeper. #Shareholders
We're currently developing a Betting Building in the Decentraland Metaverse. The Betting Building will be open to the public, and Galactikka Club NFT owners will share in the profits! Parties and celebrations aren't forgotten! #Winners

Partnerships will be developed with stadiums, sports teams, artists, and significant thought leaders. You'll have the chance to be a part of future collaborations. #Giveaways
The Galactikka Club's rarest NFTs are the Diamonds, a group of persons who have an Outlanders are the Galactikka Club's rarest NFTs. You can get a lot of bonuses and awards if you have one of them. Along with us, they will be in control of future projects.