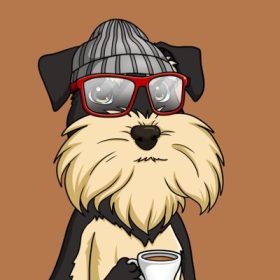 Gatsby the Schnauzer is a collection of 10,000 organically curated NFTs that offers unprecedented utility long after purchase.
Gatsby the Schnauzer here! Getting into mischief, playing fetch, and rocking out are some of my favorite activities! I can be mischievous, intelligent, rebellious, playful, angry, and everything in between, but most importantly, I am curious! I like to sneak into the laundry room when no one is looking, then run around in my new outfit and go on one of my adventures! Depending on my mood, I might feel athletic and start chasing after a ball, or I might feel creative and start working on my next masterpiece with my stolen paintbrush.

Here are 10,000 ways I like to flaunt my attitude and fashion sense! I'm sure your favorite puppy understands! With proof of ownership on the Solana Blockchain, you can own one of these one-of-a-kind collectible characters.

Ownership of a Gatsby the Schnauzer NFT entitles you to exclusive access to our community, which is open to all dog lovers! It allows you to participate in our members-only community "The Dog Park," where we can share the crazy behavior of my best friends! More importantly, member feedback will aid in the transition of my friends and me into the metaverse, where we can meet digitally and play games!