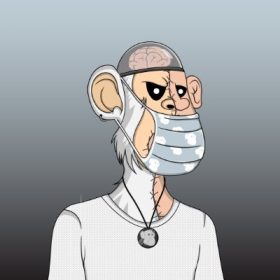 Degen 3-Phase Utility NFT with Weekly Rewards, Community Vault, Staking, Metaverse Integration
Phase One 'Evolution' is our initial NFT collection, which consists of artworks of specially formulated half-man, half-ape designs. 
Frustrated by the apparent decline in human evolution, a group of scientists and evolutionary biologists advocated for 'Directed Evolution.' 
Technological Symbiosis through the creation of Cyborgs would be the natural progression of technological advancement. This idea was abandoned due to a lack of security and the ease with which some are able to hack into systems. 
The scientists devised a method to'restart' the evolutionary process, to create the next stage in evolution and combine animal physical abilities with human intelligence and learning capacity. 
Because genetic splicing would be too expensive and time-consuming, the scientists proposed a far more drastic approach. Through vivisection, a human and an ape are physically combined, and animal cells are stimulated to grow using stem cells and hormones from the human pituitary gland. 
The scientists only needed some test subjects after receiving financial assistance from an unnamed source and a location for these experiments. 5000 volunteers agreed to participate in a 12-month sociological and behavioral study on their time spent living with apes. 
These volunteers would begin arriving on this island over the next 20 weeks. They were unaware of the plans these scientists had in store for them, and these are the results of those experiments, which are not bound by the laws of any nation...