Significant collection
Significant collection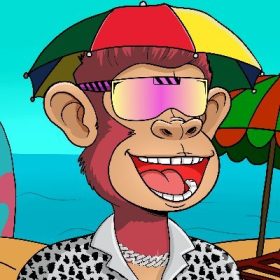 REAL UTILITY! Island Ape Paradise Club just released and growing quick!
The Island Ape Paradise Club NFT

The Island Ape Paradise Club was created with the intention of providing entertainment and thrill to its users. Island Ape Paradise Club has set the standard high in terms of utility and return on investment, from development to freebies.

The Island Apes, sometimes known as the paradise monkeys, are found on a diverse range of Pacific Ocean islands. The founder ape "Tiki" struck gold beneath the water around 50 years ago, and has since sponsored a complete paradise. He then built the world's most opulent resort and asked all of his ape buddies to join him in paradise. This Island Ape Paradise society aspires to make a difference by bringing as many apes as possible to live in paradise.

With our secondary market booming, all Island Ape Paradise Club NFTs will be disclosed. A second roadmap will be created for our utility features and to keep our community expanding. Our game server will host daily events and activities. Royalties will be used to publish more marketing, resulting in a direct increase in the floor price.

Island Ape Paradise Club wants to build the first Paradise Island Resort on this property. Ownership of this land will be shared by all Island apes. We'll give 50 percent of ownership to a select few holders chosen at random, with the rest going to the community. As a result, you'll all be proud landowners in the Metaverse!

When our road map is finished (100 percent Minted). Our own gaming server will go live. ONE WEEK AFTER THIS ACCOMPLISHMENT, WE WILL HAVE THIS READY FOR THE PUBLIC. Holders of island ape paradise club will be able to connect to this game server through an existing PC/Mac compatible video game. In discord, a name will be announced. As a result, holders will have immediate access to NFT Use as we start and sell out.

Holders of our gaming server will be able to take part in daily events that will engage the island ape paradise club community with exciting games and chores. Prizes are given out to winners on a daily basis. Our game server will provide a fascinating atmosphere for our users to build residences, drive vehicles, interact with other players, and explore maps. A custom map, plugins, and game mode will also be created.
Collections in Secondary Market