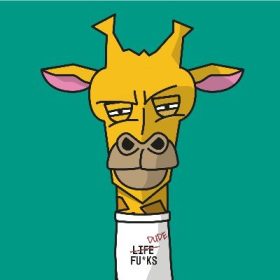 Jeffrey is a decentralized brand, whose ownership is represented by each of the 5432 Jeffrey NFTs, on the Ethereum Blockchain.
WHO'S JEFFREY?

He is, after all, a giraffe. That is self-evident.
But that isn't the end of it. If you could see behind Jeffrey's irreverent psycho look and self-centered soul, you might notice a lot more.
Something akin to an idea, a concept that becomes the norm – or, more precisely, a brand.

WHAT IS A BRAND?
Indeed, Jeffrey is a decentralized brand, with each of the 5432 Jeffrey NFTs on the Ethereum Blockchain representing ownership.
This means that each Jeffrey NFT owner owns a portion of the entire brand: this gives great power – and, as always, great power comes with great responsibility!

A VISION.
I'm not joking. Not at all. It may appear to be a daydream, but you've never been so close to reality. Each Jeffrey NFT owner earns from brand revenues and participates actively in its growth by voting, hastening its evolution with brilliant ideas and inspiring collaborations, and working and proposing changes in close collaboration with other members of the community.
Jeffrey will always be yours. The Ethereum blockchain confirms this.