Significant collection
Significant collection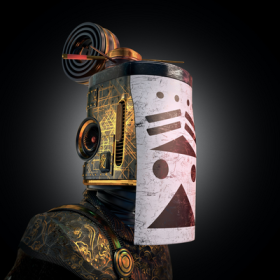 A unique collection of 8,888 hand-drawn 3D art pieces.
Lunaroid, a Shape Shifting Samurai Masked Robot, was created in the year 5070, just before World War 3 broke out, and it returns to the city of Japan after being presumed to have been destroyed or captured by the enemy force. This time, I'm wearing a new face that's part angelic, half evil. After the war ended and peace treaties were signed, the Japanese government dispatched spies to other countries to ascertain their whereabouts. But it wasn't out of kindness; it was to ensure that the Masked Samurai was permanently gone.

Lunaroid was originally designed to pose a danger to its opponents, but over time it evolved to be able to convey more human feelings. It notices the government's corrupt actions and frequently criticizes them. At one point, a small group of government officials distributed false information about Lunaroid, saying it was responsible for the deaths of several high-ranking officials. When the spies learned that it wasn't in all of those countries, they were relieved to learn that their plan to eliminate it by isolating it in a hot zone during the war had gone off without a hitch.

Years later, when Japan was suffering from the worst sort of corruption in human history, with the government ruining the country's financial structure and persecuting the poor, the long-forgotten shape-shifting masked Samurai warrior reappears. This time, to operate as the city's vigilante, enforcing the law without hesitation.